This post is a shameful plug for the running pace charts that you can find here (min/km) and here (min/mile) but the fact is that they're actually really useful. There's also a pace calculator too!
Whilst I've got a GPS watch which gives me a breakdown during and after my runs there is still a place for pacing charts especially when looking to improve on a certain time or trying to work out what pace you should be running when moving to a new distance.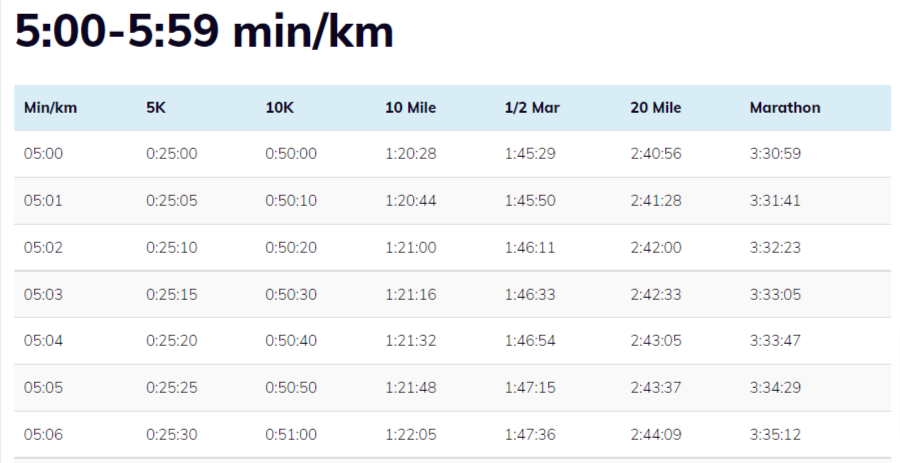 Work out your pace from your finish time
If you've not got a running watch and aren't a maths genius then you may find it a little tricky working out your pace but if you know the distance then it's fairly simple. Just run a 10km race in 53 minutes flat? Your average pace was 5:18 min/km or 8:32 min/mile. Pacing charts make it that simple to determine your pace per mile and/or pace per kilometer from a race or recent training run.
Find out what pace you need need to run in order to get a certain finish time
Now this where I find pacing charts really useful. It's obvious to say you just need to run quicker to get a PB but if you know what the pace is for the finish time you're aiming for then you can adjust your running accordingly.
A glance at my Garmin running watch will tell me my current pace and my average pace. I can then adjust my speed to ensure I'm at the correct pacing to achieve the a Personal Best.
Predict your finish times across distances using pace charts
Whilst it'll be impossible to maintain your 5km pace when running a marathon you can still use the charts to roughly map your predicted times based on your times at shorter distances. You'll want to add some extra buffer time on top to allow for the pace drop and extra fatigue but as a loose guide it can be a useful tool.
Understanding the pace required for running distances you've never completed before will help you mentally prepare and ensure you're aware of the work you'll need to put in.
Can't a running watch do all this?
Watches can do so much, but sometimes it's so much better to just see things written down so you can mentally prepare and process what your aims and targets are.

It may shock you but many don't run with a GPS running watch. Some just free run while others will rely on tracking via their phone which isn't as accessible during a run.

I personally think they're invaluable. Not only for pacing, but also for tracking and motivation. I'm not saying that works for everyone but I love mine…. and there are some runs where I never even look at it apart from the start and end of my run.

A running watch can give you your current pace, average km/mile pace, and also have a race predictor to give you an estimate on your finish time based on your pace. You'll also get the benefit of a heart rate (HR) monitor to track how hard your working. Even then it still won't give you the immediate numbers that these running pace charts do.

We all have our own way of doing things

The pace charts are amongst the most visited pages on this website, and those hits are mostly coming on weekends, showing that there are many runners who will be looking at them either before a run, working out what to do, or after a run, retrospectively analysing their weekend long run.

Go have a look at our selection of running tools and you may surprise yourself at how useful they are.

Article by: