London Landmarks Half Marathon (LLHM) launched in 2018 and is a great opportunity to run on closed-streets through one the world's most iconic cities, which isn't something that many of us get to do.
It takes place in April each year, with the next event scheduled for Sunday 7 April 2024. The timing of this, 2 weeks before the London Marathon, means that some runners take on the event as their final long run before tapering before the marathon. But it's also its own event giving other runners the opportunity to take part in a non-marathon run through London.
I was lucky enough to run the race in 2019 and this was my first effort at taking on a half marathon and those memories will stick with me forever. The amazing route, the crowds, the cheer stations, and knowing I was raising money for charity too.
How to enter LLHM
London Landmarks is organised by the not-for-profit organisation, Tommy's, and there are two ways of getting a place.
Enter the ballot – this is open for one week in June. It's free to enter the ballot, and you only pay if successful.
Run for a charity – You will need to raise a minimum amount depending on which charity you run for.
This is a popular event, and I've not been successful in the ballot whenever I've applied so I went down the charity route. The fundraising amount required is usually around £350, which isn't too bad compared to the £2,000 fundraising target for the London Marathon.
Often this will include your actual race entry, so you're actually raising less money if you think about it, and could always donate the entry fee yourself to boost your target.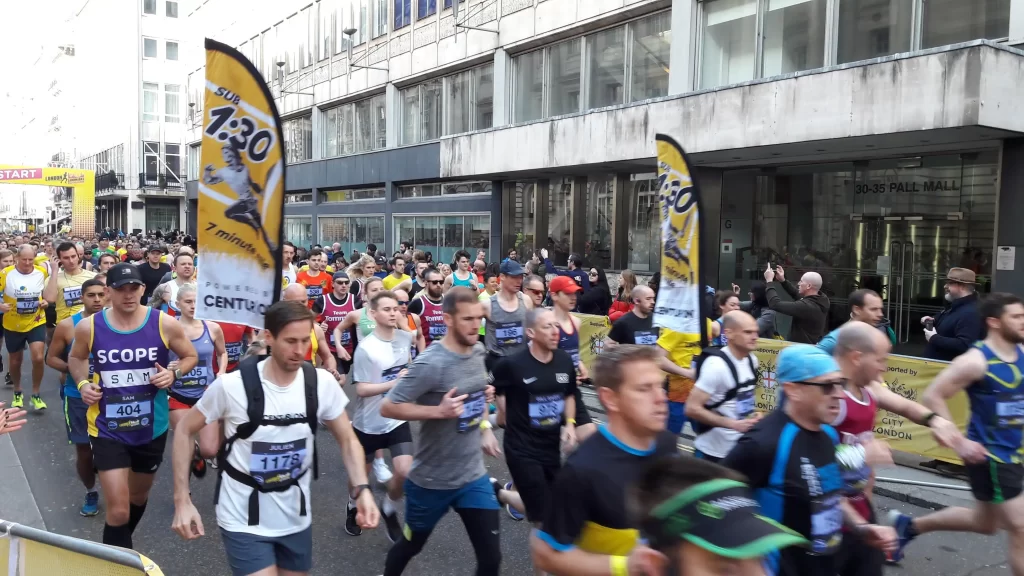 The route
The 13.1-mile (21.1 km) course showcases some of London's most famous landmarks, allowing runners to experience the city's rich history and culture as they race.
A lot of the Cheer Stations are themed around the areas they're located, so you may even learn something as you run!
Starting at Pall Mall, the route takes participants past iconic sites such as Trafalgar Square, St. Paul's Cathedral, the Tower of London, and the London Eye. The race then heads along the River Thames, offering stunning views of the cityscape, before finishing at Whitehall just outside Downing Street.
It really is an amazing feeling to be running on the closed off streets and to be the centre of attention for so many members of the public cheering you on.
The start
Depending on your predicted time that you submit, you will be put into waves along with similar paced runners. Here's a video I took of the first wave of runners at the beginning of the 2019 event.
It's quite a busy start, so don't worry too much about your pace here, just try to not go off too fast trying to beat the crowd, or expend too much energy weaving around runners.
Pace yourself and save energy for the 13.1 miles of the course. You may even have enough left for a sprint finish.
Training and Preparation
This is where I would normally put in about having a proper training plan and you definitely need to prepare for a half marathon, but also appreciate that this isn't just about getting your head down and going for a PB. Try to take it all in, wave to the crowds, see the sights, and mostly enjoy yourself.
If this is your first half marathon then have a read of our 10 Essential Tips for Your First Half Marathon.
However, this is a very flat course and that means getting a PB is a real possibility, and you can't understate the effect that a large crowd can have on your adrenaline and keep you pushing along.
Race Day Logistics
It's important to plan ahead so that on the day you won't have extra stress in your life. London has lots of transport links and accommodation so plan it's easy to plan to get to the start nice and early whether you're travelling on the morning or staying in London overnight.
You will be given a start time for your wave, and that will have an arrival time, but for me personally I just wanted to get there and take it all in.
Here are a few things to consider for the day:
Travel: The London Underground is the most convenient way to reach the race start at Pall Mall especially considering the road closures.
Breakfast: Make sure you eat before you head out. We've written an article on what to eat before long runs.
Baggage: The LLHM offers a secure baggage area for participants to store their belongings during the race. Put in what you want for directly after the race such as a change of top, a protein bar and a bottle of lucozade.
Race number: Your race number, included in your race pack, must be securely fastened to the front of your running top using safety pins. This number is essential for identification purposes and for tracking your race time.
Hydration and nutrition: There are water stations along the route, but you may want to take your own bottle with you so you're not reliant on them. It's a good idea to practice your race day nutrition strategy during your training runs to avoid any gastrointestinal issues especially when using energy gels.
Post-race: Plan a meeting point with friends or family for after the race, as the finish area can be crowded. Make sure to stretch, refuel, and celebrate your achievement!
Spectator Tips
The London Landmarks Half Marathon is a thrilling event for spectators as well, with plenty of opportunities to cheer on the runners and soak up the festive atmosphere. Here are some tips for making the most of your spectator experience:
Choose a vantage point: Familiarise yourself with the course map and select a few key spots where you'd like to watch the race. Iconic landmarks, such as St. Paul's Cathedral or the Tower of London, provide a picturesque backdrop for cheering on the runners.
Support local charities: Many charities set up cheering stations along the course, offering an opportunity for spectators to show their support and make a difference. If you stand near a particular charity you can give your runner an idea of exactly where you'll be.
Dress for the weather: The British weather can be unpredictable, so be prepared for anything. Wear layers and pack an umbrella or raincoat just in case. Take a backpack to stuff these all in and see if the runner you're supporting wants you to bring anything for them.
Track your runner: The LLHM offers a race tracking app that allows you to follow your runner's progress throughout the race. This isn't always 100% accurate though so you can also use Whatsapp's 'Share Live Location' feature too.
Join the post-race celebrations: After the race, make your way to the finish area to congratulate your runner! Bring them some food too!
Run this event
I love the London Landmarks Half Marathon. Not just because it was my first half marathon, but because of how special the day is, and because of how much money it raises for charity. You really should run this at least once.